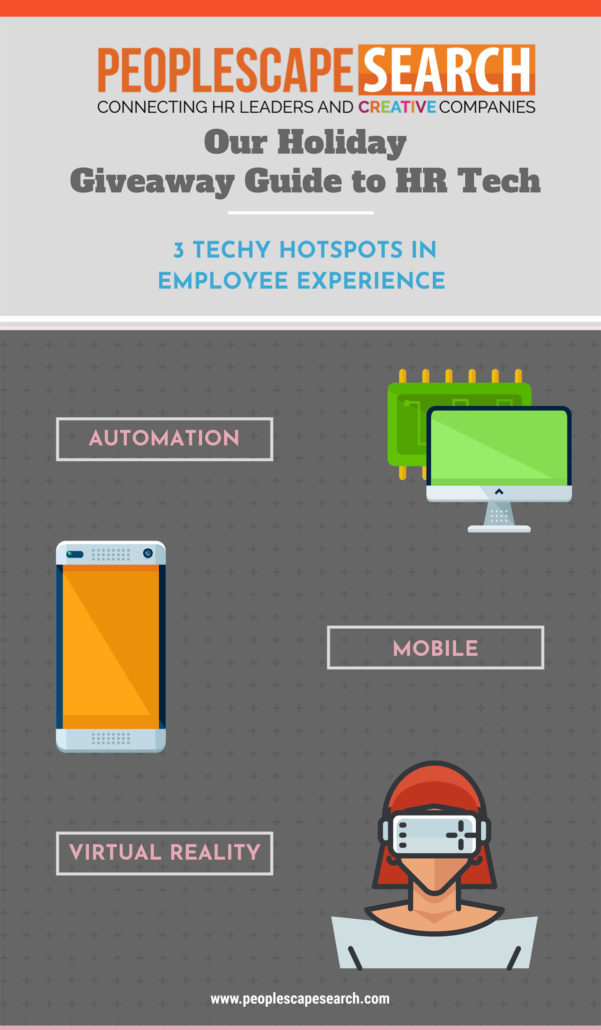 It's the end of the year! As enterprises start planning for the following year, let's pause to highlight emerging and continuing trends inHR technology.
#1 Automation improves Employee Experience and Strategic Value from HR
HR teams across the board are leaning towards a streamlined and efficient way of conducting business. Organizations, regardless of size, are investing in HR solutions to automate administrative tasks that often become HRs responsibility. Paperless self-service options for basic administrative tasks like change of address, update tax and direct deposit forms no longer need to pass through HR and instead are entered into the HCM system that automatically updates payroll and benefits.
BambooHR includes a full package of performance management, employee satisfaction surveys and time tracking into their integrated platform. According to Paychex Pulse of HR Survey, HR tech solutions are enabling HR professionals to achieve their objectives to be better strategic partners at the same time improving employee experience (by 75%).
#2 Mobile Technology Enhances, Communication, Experience, Engagement and Productivity
We recently helped a client transition all their HR functions to a HCM called iSolved and was pleasantly surprised that their Applicant Tracking System allows texting to communicate with candidates and schedule interviews, while mobile features send offer letters and complete new hire onboarding. Mobile options enhances the candidate experience and improve communication. As we continue with mobile-strategy shift, "HR understands that, in order to keep up with employees' fast-paced, easy-access lifestyles, employers must connect via their mobile devices" says Kevin Andrews, CTO of Hodges-Mace.
In terms of employee engagement surveys, SurveyMonkey has a mobile option. Culture Amp combines both mobile technology and AI to understand and act on employee feedback and reduce employee turnover and increase engagement and productivity.
#3 Virtual Reality builds Employer brands and makes Training REAL
Virtual Reality has taken front and center in recruiting and innovative ways of capturing a candidate's interest in the company. But a growing trend that is sure to expand in 2019 is use of VR for employee's training and development. HumanSim is a tool which facilitates self-paced and team training for the medical industry. It offers advanced experiential learning so medical professionals can sharpen their assessment and decision-making skills without patient risk in a realistic, challenging, and immersive environment.
Walmart is a company that use StriVR to train a million staff members in 2018 and 2019. Employees in training are immersed in the chaos of Black Friday shopping while having to identify various issues throughout the simulation. StriVR also has a list of collegiate and professional athletic teams who use the technology to train their players by using first-person perspective to run through their plays and improve on their game strategy.
If your company is interested in implementing any of these tech tools to improve your employee experience, contact our experts at Peoplescape!
https://peoplescapehr.com/wp-content/uploads/2018/12/HR-Tech-Tools.jpg
2056
1200
Caryl Porte Laborde
https://peoplescapehr.com/wp-content/uploads/2020/07/peoplescape_logo_2020-e1594693165758.png
Caryl Porte Laborde
2018-12-13 08:00:57
2019-01-03 17:56:35
Must Have HR Technologies for 2019