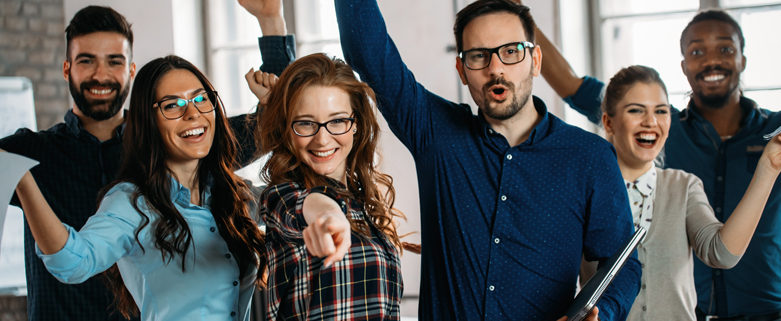 I don't mean to scare you but… please note: there is officially a talent war on the go in the United States.
Statistics
Technology Market:
86% of managers are finding it challenging to find and hire technical talent. (Indeed.com).
83% believe that shortage of tech talent has hurt their business through lost revenue, slower product development, market expansion or increased employee tension or burnout. (Fortune).
Creative Market:
45% of advertising and marketing executives say it's challenging to find creative professionals today (The Creative Group, Dec 2017).
Nearly 7 in 10 job seekers surveyed said they lose interest in a firm if they don't hear back within two weeks of the initial interview. (Fast Company).
Overall:
The unemployment rate in January 2018 is 4.1%, down from 5% unemployed in 2016 (Bureau of Labor Statistics). The ratio of unemployed persons per job opening was 1.1 in December 2017.  (BoLS).
The Old
The traditional recruiting process is tedious. It is labor intensive and lengthy. It risks losing good people. The process looks like this:
The company advertises the job opening,
A recruiter screens and searches through numerous resumes,
The recruiter juggles schedules to schedule candidates to come in to rounds of interviews and often back for additional rounds of interviews or tests on different days,
The recruiter then gathers feedback from all the interviewers or worse still gets them all in the same room/on a call to discuss the final selection.
As we see, this method is time consuming, inefficient, and reduces candidate interest in the role. A recent trend, however, shows a shift in hiring where companies are agile in their process and they place a greater emphasis on  the entire candidate experience. (See Peoplescape' s recent blog on this, here).
The New
Agile? Recruitment? Agile is a term commonly used in software development and project management. Agile methodology is an iterative and customer-centric approach. In the last couple of years, following recognition by Harvard Business Review, McKinsey and Company et al, agile is no longer limited to software development. It's spreading rapidly to all parts of the organization. In talent acquisition, applying agility not only cuts recruitment time and saves money but also attracts top talent.
One of the disadvantages of recruiting in a transactional way is how easily a company can lose a great candidate. The average length of interview process is 23.7 days; and software engineer jobs take 40.8 days to fill on average! (Glassdoor study 1-6/2017). The job market continues to be competitive and job seekers look beyond compensation and job title when searching for their next role. They go for the overall "hearts and minds" package, to find companies with values they share and would enjoy working with.
How do we behave like a company, you and your candidate would enjoy working for?
Focus on Candidate Experience
Simply put, candidate experience is the reaction job candidates have after interacting with your organization. According to Careerbuilder, 75% of candidates say their candidate and onboarding experience with a company is the first part of their broader employee experience; thus blending the lines between candidate and employee experience. To create a positive hiring experience, the recruiting team must create a "high-touch" environment for the candidates. From the moment they email or call a candidate, there must be high touch communication all the way through the recruitment journey, until hire or rejection.  The formula is to succeed in sustaining the candidate's excitement, knowledge and positivity about the company all the way through.
Winner of Glassdoor's Best Places to Interview for 2017 is Dignity Health. Dignity won this award for giving candidates a positive interview experience; "the friendly, comforting environment, engaging questions, and clear expectations of what the open roles will entail" where what sealed it for them. Ranked in the top five, Salesforce personalizes interviews by asking interviewers to share their personal journey and to look for candidates who possess the same values as does the company.
Be Strategic and Collaborative as a Hiring Team
To fill the role efficiently, recruiters and hiring managers should be strategic in selecting the interview team. Each interviewer should come from cross-team functions within the company and be given instructions by the hiring manager on what are the key messages, focuses on the team, what behaviors or approaches should each interviewer be looking out for. For example, culture fit, emotional intelligence, technical prowess. If a candidate comes for an interview with six people at the company, time should not be spent repeating the same dialogue with each interviewer. Diversity in the interview panel is a major consideration as it is effective in eliminating bias towards a candidate based on gender, race, or affinity. Google's former HR boss, Laszlo Bock spoke to Business Insider on the company's rules for hiring. One such rule is the diversity of the interview team "include subordinates and peers in the interviews and have an unbiased group of people make the actual hiring decision."
Make Decisions Efficiently
How many companies have lost well-suited candidates because they sat on making a decision for a month? Ideally, the recruiter should debrief with the interviewing team as soon as the candidate leaves and decide if they should proceed with an offer. This eliminates losing the right candidate to a time-lag or dissipating interest. Fortune recently highlighted Intuit's hiring process where interviewers are proven to be "sharp judges of talent" and HR Chief Sherry Whiteley confirms that their recruitment process is so agile that it is not uncommon for same-day offers. Those not selected will similarly appreciate the swift response and are unlikely to post negative comments on social media sites. Social media, after all, is a strong recruitment tool with staying power.
Recruitment should be an affirmative and high touch experience as it is a process of adding new talent to your team. If the process is agile and candidates are provided a genuine, warm experience, then your company remains competitive and can successfully attract the talent you desire, enhance a great culture as well as the strategic goals your team aims for.
#2018recruitment #hiringtrend #talentacquisition #hiring #recruiting #agilerecruiting #agileHR #candidateexperience #employeeexperience #diversity #companyvalues #efficient
https://peoplescapehr.com/wp-content/uploads/2018/02/hiring-team.jpg
500
781
Caryl Porte Laborde
https://peoplescapehr.com/wp-content/uploads/2020/07/peoplescape_logo_2020-e1594693165758.png
Caryl Porte Laborde
2018-02-09 08:00:56
2018-04-11 15:46:45
Are Same Day Offers the Way of The Future? Achieving Agile Recruitment in 2018.